A number of countries including New Zealand and Australia have identified period poverty as a social issue to be fixed. In November 2020 Scotland announced a program as well.
Period poverty is the term used to describe the inability to purchase sanitary products and it presents a significant obstacle to health, comfort, and engagement with school and community activities.
New Zealand tackles 'period poverty' with free sanitary products for all schoolgirls was the headline. The Prime Minister of New Zealand, Jacinda Ardern, announced a trial program. More than 90,000 girls stay away from school because they cannot afford pad or tampons.
About 30% of the 1.2 billion women suffer from period pain (dysmenorrhea) and a key issue is they often suffer heavy bleeding. When they have heavy bleeding, they have to use more feminine hygiene products. When the blood loss from a period is greater than 80ml / period or the period duration is greater than 7 days the technical medical term is called menorrhagia.
A consequence of menorrhagia is the women suffer from low iron levels and that sets in train a whole medical intervention with iron supplements and that often results in constipation. The combination of all this can be severe.
Girls in New Zealand high schools will no longer have to pay for sanitary products after the government announced it would foot the bill in an attempt to stamp out widespread period poverty. Prime minister Ardern said sanitary supplies for a monthly period were not a luxury, but a necessity and too many girls were skipping school because they weren't able to afford pads and tampons. Schools in deprived areas also reported girls being forced to use toilet paper, newspaper and rags in an attempt to manage their period. Fifteen Waikato schools (near Hamilton NZ) – identified as those most in need – will have access to free products from term three of this year, with the programme going nationwide on an opt-in basis by 2021.
Otago University found girls who experience period poverty face lifelong implications "for their health, emotional development, education and career prospects"
Isobel Marshall – Australian Of the Year
At just 18 years of age, Isobel Marshall co-founded TABOO with school friend Eloise Hall, to help women around the world by breaking down stigma around menstruation and providing greater access to hygiene products. In Jan 2021, Isobel was recognised for driving the campaign in Australia conjunction with TABOO and Vinnies Women's Crisis centre, providing free access to pads and tampons for women who require emergency accommodation in South Australia. Recognising period poverty is not just a big city issue, they also support the Ngaanyatjarra Pitjantjatjara Yankunytjatjara Women's Council.
While research about period poverty is limited the available evidence shows that poor menstrual management can affect the emotional and physical health of young women and can influence school attendance. A US study conducted in 2017 found that one in five American girls aged 16 – 24 have either left school early or missed school entirely because they did not have access to period products.
A 2018 survey in the UK by a manufacturer Always claimed 137,700 girls in the UK missed school in 2017 because they couldn't afford sanitary items. That survey also found that 55 percent of teachers were aware of girls in their school being unable to afford sanitary products.
Poverty Pain in India
Other countries have also identified period poverty. India. Two young entrepreneurs with a charity in South Australia have launched their own social enterprise selling sanitary products whose profits will go to disadvantaged women fighting period poverty around the world.
Period Poverty in Scotland
Period poverty: Scotland first in world to make period products free. Read about this from the BBC in November 2020. Note that this was in politics section, not the health section of the BBC, as reduction of period poverty is a political and social initiative.
Period poverty is when those on low incomes can't afford, or access, suitable period products.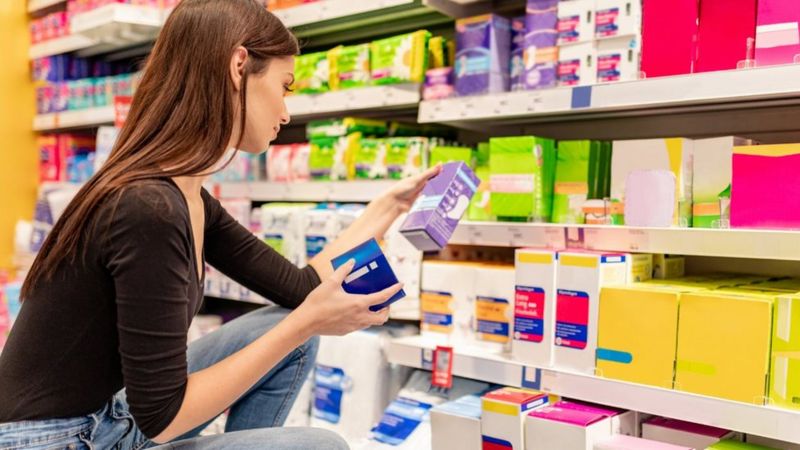 With average periods lasting about five days, it can cost up to £8 a month for tampons and pads, and some women struggle to afford the cost.
So the Scottish Government decided to make feminine hygiene products free.
Periods Shame
"Period poverty is a real issue that is under-researched," Dr Ruth Knight from The Australian Centre for Philanthropy and Non-profit Studies based at QUT Business says. In most studies, teachers and researchers say
"They felt that students generally loathe their periods and given periods are a sensitive topic, this compounds the embarrassment and shame in talking about the topic, which may prevent some girls asking for help or advice."

Staff from study in Australian Queensland schools
Can Seaweed Reduce Period Poverty
We suggest seaweed will make a substantial reduction for period poverty.
Seaweed reduces dysmenorrhea (period pain) based on indicative pilot trials and customer feedback
Seaweed reduces the burden of menstruation based on indicative data.
Seaweed is natural, organic and just a food.
Alternative strategies recommended are heat pack, NSAIDS and oral contraception.
Ask us about how seaweed may make a difference to your daughter in this socially vulnerable age and environment.